Josh Jacobs On Presenting Unparalleled Opportunities To Alcohol Beverage Companies Through E-commerce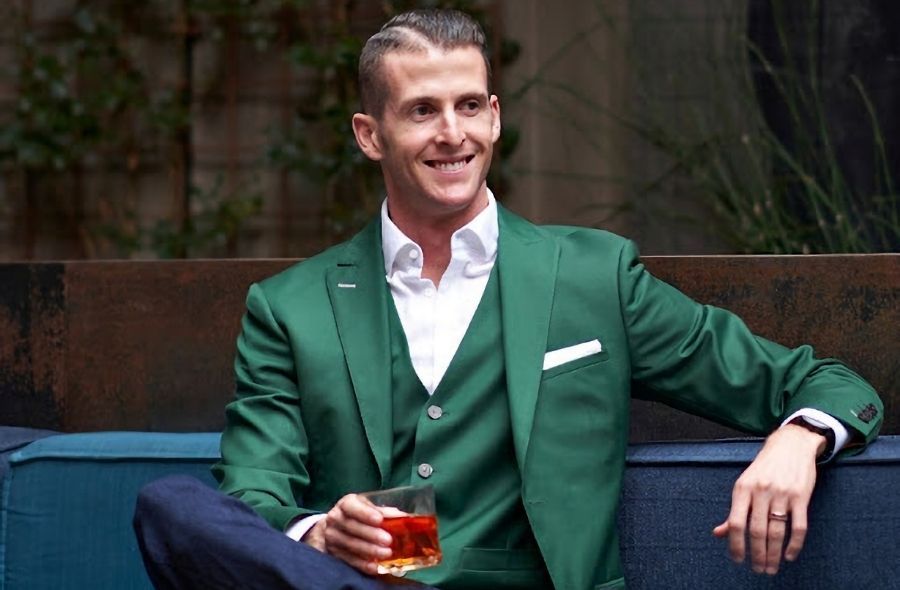 Josh Jacobs, Co-founder and CEO of Speakeasy, a leading DTC platform for alcohol brands, shares what it takes to build an e-commerce platform and how alcohol brands can leverage it.
10/03/2022
With an educational background in Mathematical Business, Josh took up jobs in the Finance and Operations side of the business at an early age. Having interned in various companies, he gained immense experience in Business Analytics and co-founded several companies including Sixth Man Solutions and Moovdit. Inspired by Blue Apron and Bircbox, Josh entered the alcohol industry and in the summer of 2015 launched a craft cocktail subscription box. From then on, life took a turn for him and he went on to develop the idea of Speakeasy. 6 years of blood, sweat, and tears, today Josh Jacobs is the Co-founder and CEO of Speakeasy which is a B2B platform that offers integrated DTC solutions to alcohol beverage brands. He has helped many businesses to sustain themselves during these turbulent times and has transformed the alcohol e-commerce industry.
[[relatedPurchasesItems-35]]
For those who are unfamiliar with your work, what is Speakeasy? And what was the inspiration behind the B2B e-commerce platform?
Speakeasy is the leading DTC platform for alcohol brands. Our mission is to empower partners to take back control.
Think about how you purchase your favorite products today. For most of us, it's online, directly from the source. But have you ever done this with a bottle of spirits? The answer is likely no. And that's because the existing regulatory environment prevents brands from selling directly to consumers in most states. At least until Speakeasy was created.
We integrate a shopping cart directly into a brand's website, providing access to the tools, capabilities, and analytics of selling DTC when in reality, the transaction is compliantly flowing through a liquor store. In the process, we help our partners take control over their data and customer relationships. And really, control over their own destiny when, historically, they've had to rely on other third parties to grow.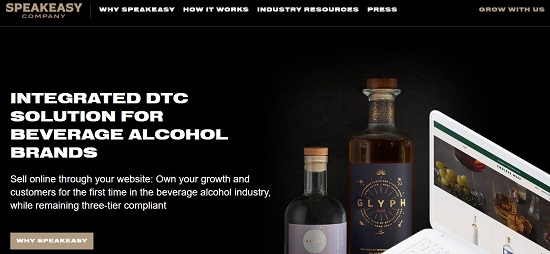 Image Source - Speakeasy Company
I wish I could say the idea for Speakeasy was a stroke of genius, but it really wasn't. Getting to where we are today has been one of the hardest feats in my life… a close second to the two-year courtship to get my now-wife to go on a date with me. It's truly been a journey of blood, sweat, and tears over the past six years.
We launched as a craft cocktail subscription box in 2015, and ever since, we've been on an incredible journey of learning and iterating. Eventually, we pivoted to the model that exists today by listening to the market's needs and our brand partners. We now work with nearly 300 brands, including Jagermeister and Spindrift, and have recently launched special projects with Tesla and Bacardi.
How much has the three-tier system affected the alcoholic beverage industry? And how does Speakeasy bridge these gaps and help brands transform into e-comm companies?
Since prohibition, beverage alcohol brands have lacked visibility and control. A unique bottle or interesting name is simply not enough to engage with shoppers. Even now, many brands rely on distributors to sell products. And bars, restaurants, and liquor stores to promote that product.
Speakeasy changed the game by supercharging brands into e-commerce companies. They're now able to have more control over customer relationships. We did this by integrating a shopping cart into the brand's website, providing access to a suite of e-comm tools, capabilities, and direct-to-consumer analytics. While this might sound complex for some brands, Speakeasy is the arbiter of the entire ecosystem and streamlines the whole e-comm experience for partners by handling fulfillment, customer service, and technology.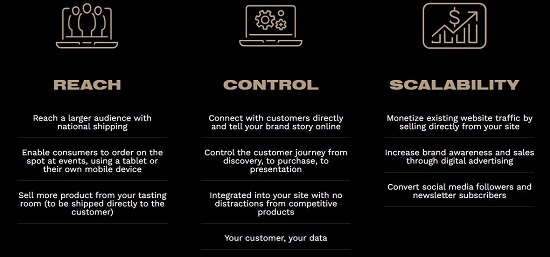 Services Offered By Speakeasy; Image Source - Speakeasy Company
How did Blue Apron and Birchbox influence the decision to launch Speakeasy?
Back in 2015, we were in the middle of the subscription box boom and I was racking my brain for the next big idea. There were two companies that were particularly inspirational at the time.
The first was Blue Apron. A subscription service that sends all of the ingredients and instructions to whip up gourmet dinners at home. Their business made something so intimidating and approachable.
The second is BirchBox, which pristinely boxes up and sends customers a collection of beauty samples. They also developed an e-comm platform where customers could purchase the full-size version of samples they enjoyed. So we started searching for the intersection of Blue Apron and BirchBox. Something that could democratize an intimidating skill with a sample to the full-size component.
At the time, craft cocktails were becoming an integral facet of restaurant menus and dedicated bars and speakeasies were popping up. My wife and I were personally hooked and thought to ourselves, "This is it. No one knows how to make fancy cocktails, the ingredients are expensive, and there's no centralized online hub."
Voila! The idea was born. But at 25 years old, we had no idea how to make anything beyond a vodka soda and a tequila shot with salt and lime. Which, if we're being totally honest, we rarely even had the salt and lime.
From subscription boxes to a B2B, how did Speakeasy evolve?
Right out of the gate, it was our mission to not just introduce subscribers to new cocktail recipes, but to the spirits. So naturally, we gravitated towards craft spirits. It was actually the distillers who first educated us on the challenges of the three-tier system. It blew our minds that our subscription box was actually the best marketing vehicle that existed in the industry. We didn't exactly know what the solution was just yet, but we did know early on that if we could create opportunities for brands, we would have a successful business.
We always planned on having an e-commerce presence, so the next step after launching the subscription boxes to support the brands was offering the ability to purchase full-size bottles on our website. At that point, our store was sparse, with only a handful of bottles available to purchase. Instead of limiting ourselves to only past partners, we then built an online craft spirits store.
After amassing 50 or 60 SKUs, we went back to the brands for feedback. Outside of our unique spirits collection, how are we offering a better solution than a traditional online liquor store to these brands? If we owned a brand, would we invest resources into driving traffic to a website where you had no control over the design or messaging? After all, brand competitors were listed at the bottom of the site!
That next evolution was building dedicated landing pages for each brand. We provided a blank canvas for partners to share their stories while hiding all the navigation and references to other brands. For the first time, these brands were somewhat transformed into e-comm companies, which was a major opportunity.
The defining moment was when a new potential partner said, "Josh, rather than a dedicated landing page on your website, can you build us our own site with your compliance and fulfillment backend, but where we still have access to all the e-commerce data and tools?" That was the eureka moment. We could give alcohol brands access to all the tools, capabilities, and analytics of a true e-commerce company while remaining compliant.
So in the summer of 2017, we built the website and launched our first beta partner, selling alcohol from their own site. Right out of the gate, our partner sold hundreds of bottles per month, and we knew we had something special and scalable. Towards the end of 2017, we made the tough decision to sunset the subscription boxes and focus entirely on the model that exists today. In hindsight, I can confidently say this was the right move and we now find ourselves at the forefront of a digital transformation, in a $250 billion dollar industry.
What are some of the mistakes you made along the way and how did you overcome them?
We fully embrace the principle of failing fast. And we failed many times. MANY times. But each failure is a successful lesson learned and a catalyst for improvement. For example, our initial subscription box beta was pretty elementary…and that's being kind. We filmed a bartender with our iPhones as he whipped up the recipe. Then we picked up all the necessary ingredients at the store, placed them in a brown box, taped the logo on, and called it our beta.
Then, we observed anyone crazy enough to let us in their home as they fumbled through the experience, and continuously rewinded the video while holding the phone up to their ear to interpret directions.
From enhancing videos and accompanying them with written instructions, to ensuring subscribers had the proper utensils, the initial beta was a disaster. However, for our last question during home visits, we asked people if they would pay $40 bucks a month for this box, and some still said "yes." Believe it or not, we took their credit card right then and there, and just like that, we had our first five subscribers in November 2015. We also embrace a kind of grit to weather the -what feels like- insurmountable obstacles that inevitably spring up.
Another mistake we made early on was avoiding redundancy with fulfillment partners. One of our first shipping partners called on December 13th, at the peak of the holiday madness, and relayed that they would not be shipping another order due to the global challenges they were experiencing. Here we were, a young startup trying to convince brands that after nearly 90 years since prohibition, we finally had an approach worth investing in, outside of traditional brick and mortar. Yet, we were faced with not delivering holiday orders due to challenges completely out of our control. We were devastated but still motivated because failure was not an option.
Our team wound up renting a U-Haul, driving up to the warehouse to collect inventory, then packed boxes around the clock. To ensure orders arrived as quickly as possible, we took money out of our own pockets to expedite orders since we were bootstrapped at the time. We ended up packing orders through Christmas and New Year's. It was incredibly stressful, and, in full transparency, we often considered throwing in the towel, but we kept our heads down, laughed as much as possible while away from family over the holidays, and started building the Speakeasy family that is now so close to my heart. Through that whole experience, we learned that the tape gun is not my strong suit and that we can overcome just about anything.
How have subscription boxes aligned with the DTC platform that is prevalent today? Tell us about the process involved in the delivery of a product to a consumer? How does it work?
I can unequivocally say we would not be here today without the subscription boxes. They were simply our circuitous route to the DTC platform. Through those boxes, we learned about the challenges and, ultimately, the opportunities of the three-tier system. First, we had to create a compliant and scalable supply chain that did not exist within the industry.
Through that, we identified a larger opportunity to empower alcohol brands we would never have stumbled upon without first launching the subscription boxes. Plus, we had the backend already in place to support the pivot.
The platform is an amazing opportunity for brands to own their data and customer relationships, while we handle the technology, warehousing, and fulfillment. Ultimately, it's a streamlined process for the brands, since they just have to focus on marketing. Although we now even offer marketing services to be a complete one-stop-shop. For a consumer, it feels as though they're buying directly from their favorite brand when in reality the transaction flowed through a liquor store. Speakeasy works magic to ensure the product lands safely on the consumer's doorstep. At the end of the day, it feels like a simple transaction for all parties involved, and that's how we know we've succeeded.
As an e-commerce business, what type of clients are you looking for? Tell us about Tesla Tequila.
E-commerce alcohol is so nascent that brands are considering their first solution. Since it's exploding, nearly every brand is prioritizing it. And for good reason, because e-commerce presents unparalleled opportunities. But it's not a build-it-and-they-will-come environment. At the end of the day, we're looking for brand partners that are truly dedicated to maximizing the opportunity and scaling this new sales channel. Currently, we work with nearly 300 brands spanning all categories. Spirits, wines, beers, RTDs, and everything in between.
We're also open to partnering with brands from outside the industry that is looking to capitalize on the opportunity, like Tesla Tequila. After two launches, we sold tens of thousands of $250 lightning bolt bottles. Both sold out without a single Tweet from Tesla founder Elon Musk. The second launch actually sold out in less than an hour. We rode these special projects wave to other great launches like Bacardi, Knobel Spirits, and KISS. Yes, the rock band!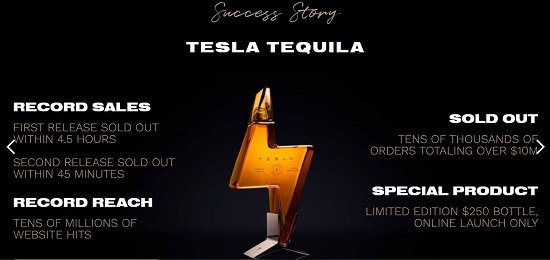 Success Story of Tesla Tequila; Image Source - Speakeasy Company
Apart from the big players like Tesla, do you also take on smaller clients? How do you help other brands launch their e-comm presence?
We partner with any brand of any size to increase their awareness and ultimately sell more products. Our team is equipped with vast knowledge surrounding digital marketing and available tools to reach their fans. We also offer Speakeasy Marketing services for our partners without the in-house expertise to fully maximize the opportunity, which has proven to be a valuable asset in raising awareness and most importantly, sales.
How do you promote the customer experience when working with these brands?
Each Speakeasy site is built with the brand in mind. So consumers feel like they're purchasing directly from the brand.
These brands aren't necessarily accustomed to "owning" the customer relationship. So we work closely with them on digital branding, storytelling, pricing, and marketing.
What advice would you give to new entrepreneurs out there? Especially on how to tackle problems during the pandemic?
Here are a few pieces of advice I live by that are arguably more important during the pandemic:
- If you're not embarrassed by your first version, then you launched too late.
- If you don't value your time, others won't either.
- There are no shortcuts or lottery tickets. True entrepreneurship is about being vulnerable and taking as many educated chances as possible.
- Let the market, and most importantly, the data dictate innovation through experimentation.
- You have to be willing to invest everything you have, both mentally and physically, and be willing to make sacrifices.
Interviewed by Prithvi Nagpal, Editor & Sommelier, Beverage Trade Network