E-commerce promises wholesale volume & hopes for DTC margins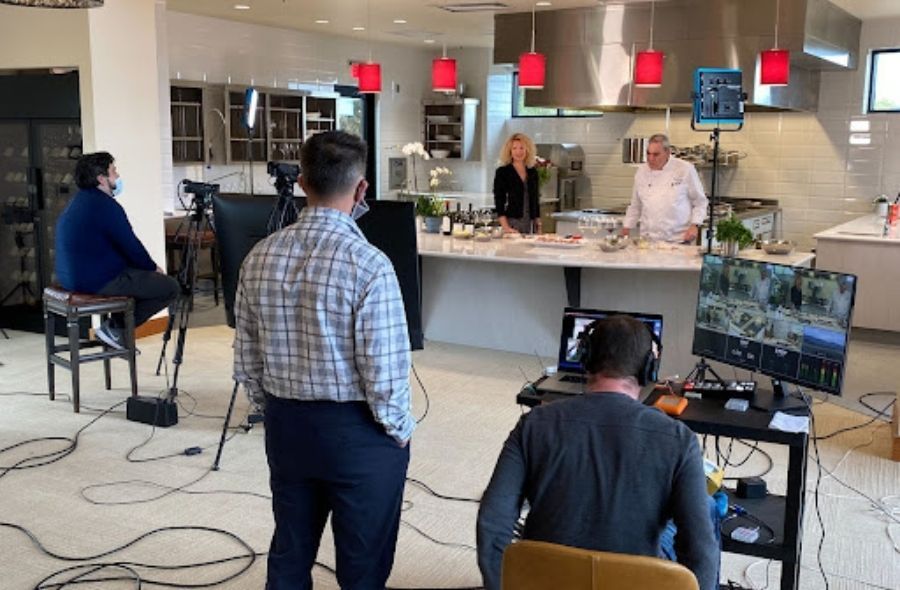 Brian Allard, Direct To Consumer Director at Bouchaine Vineyards talks about Quadrupling DTC Sales, Building First Virtual Tasting Channel in the United States: How Bouchaine Vineyards Did This.
09/03/2022
With a Bachelor of Arts degree from Boston College and a Master of Business Administration in Wine from Sonoma State University, Brian has 30 years of experience in sales, small business management, and wholesale distribution. Brian has run his direct-to-consumer consulting firm, managed the tasting area at V. Sattui Winery, and served as General Manager at Bistro Jeanty. In addition, he co-founded Brian Allard Design in St. Helena, Carmel-by-the-Sea, and Stratton, Vermont, and "Freckles–helping Children," a non-profit primarily sponsored by his company's vineyard fashion show events.
Tell us about your role.
I was brought on board at Bouchaine to help the winery achieve a new focus, more than 50% DTC sales. Bouchaine is one of Napa's oldest brands, and, as such, it focused on national distribution in its early days. But, like so many smaller wine brands, it needed a new vision for America's current wine market. Between WWII and now, the United States became the world's largest wine market by volume and price. Large and small wine brands could ride that wave of interest and increase the national population. In the last 15 years, the story has changed, essentially cutting small brands at the knees and requiring them to focus more locally on tourism. My earliest task was to create DTC channels to reorganize Bouchaine's sales. One of the most important contributions I made early on was to collect a talented team around me, essentially by reconfiguring a management team I once enjoyed at a different winery. Then I need to remind everyone that a successful small business without a culture of "yes" dies.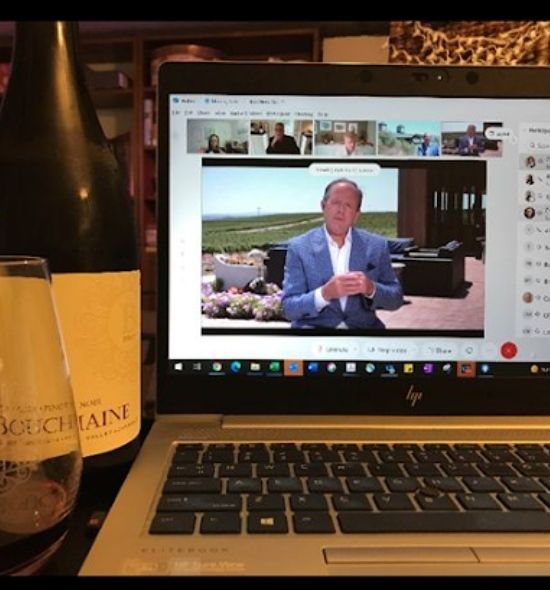 How do you see technology evolving over the next ten years?
Cell coverage will expand. Internet will become more dominant. The solutions and threats from digital will become more pronounced. Cisco has a company that can track service failures worldwide, identifying in minutes the causes. I have always been afraid of what happens when a computer hacker shuts down an east coast power plant during a cold spell in winter. I suspect we are on the verge of going from the horse and buggy to the car again in a new world I can't imagine. The wine business has been forever changed already.
There's an allegory for this embedded in my journey over the last two years. Pre-covid, I barely knew what an HDMI cable was, but I had come to an idea because of an enormous, 90' waterproof outdoor TV at a tasting room. At first, I would station a savvy sales guy outside to watch golf and football in the morning while tourists walked to an adjacent store to get coffee. Random conversations eventually led from the TV broadcasts to $100 cabernets. In Napa, you can engage customers at 9:30 a.m. like this. Then, a private driving service delivered some guests for a wine tasting one day. The company owner floated an idea about broadcasting wine conversations and wine tastings across the country from this huge TV. It was a brilliant solution to a complex Napa Valley problem: how can wineries stay in touch with their customers? Fast-forward. Eventually, I left for Bouchaine. An extra year went by as I waited for Bouchaine's new visitor center to be finished. My new corner office overlooked the vineyard, so we tested the wine world's first "virtual tasting program" in my office. I hoped it might evolve to perhaps 5% of sales and help us elongate the winery's average wine club retention.
Meanwhile, my sales team was having success during this time gaining more wine club members because we were offering virtual wine tastings as a way for our to share a piece of vacation with friends back at home, (really this was the first time non-Californians gained unique added value from their winery memberships). Covid hits. Bouchaine ends up in the Washington Post. AP carries the story of our virtual tasting program. In the NY Times, etc., 100,000 virtual tasting guests flood our way, including influential international companies like Cisco Systems. It was the first time I tried to understand a massive scale in my career. We had a product that the entire world suddenly wanted, and we couldn't keep up with the demand. In two months, digital tech had changed the wine business forever.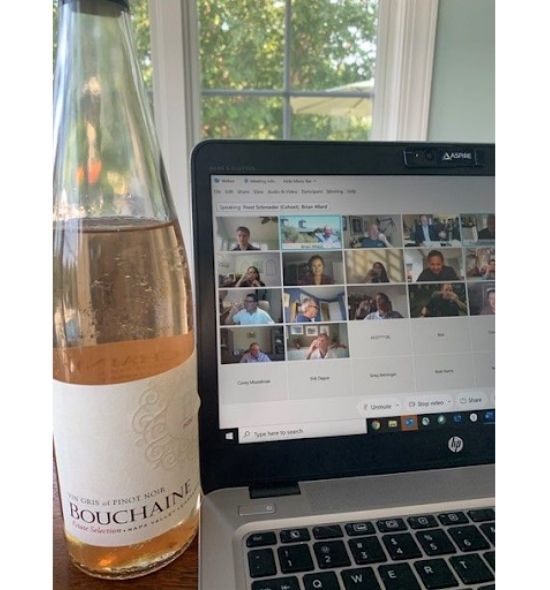 Now for the pith of your question as it might relate to wine. WebEx and Zoom provided Bouchaine with the elongated, richer customer journey the wine country needed. With and without covid, now, we can share the Napa Valley with the world. Cisco's IoT division, though, has subsequently brought on an entire digital story for us to talk about during our virtual tastings. Drought, fires, and labor shortages plague the wine industry. 50% of California wineries cannot get insured. About the same percentage fear the lack of water. Cisco sensors are in our vineyard now, collecting systematic data: temperatures above and below our fruit zone, moisture levels, tractor positions in fields, wind speed, etc. Suddenly, digital water gauges relay info to phones and dashboards, replacing manual trips to vineyard ponds set up with analog gauges 40 years ago. All this will lead to better resource management, of course, precisely when over 40% of wineries think they lack enough water to produce grapes and nearly every winery struggles to find labor. These sensors are wireless, requiring no invasion procedures. They talk to each other over miles. The cost-benefit ratios are shocking in implication moving forward. Short-term, manual data collection can be replaced by automatic digital reporting. Long-term, we might discover new optimal vine row heights or more perfect water use calculations for cost-saving and perfect photosynthesis.
Let's talk about tech's current evolution for sales and marketing too. This year Bouchaine will become the first winery to broadcast wine discussions from the middle of our vineyard, thanks to Cisco. Three hundred million Americans can log into wine tastings, experience the vineyard, ask questions. Restaurant accounts and stores can suddenly train their employees better by interacting with winery sommeliers in virtual discussions. That will change the language of wine over time (long overdue) and should change the baseline, foundational understanding of wine for consumers as a result, precisely at the time in American history when interest in wine is waning. QR codes will provide wineries with new connectivity to the customer. Every bottle will be an ambassador to a website. For the wine business, ironically, the tech will add a more personalized sales experience even as it adds savings and eco-friendly decision-making to the expense side of the P&L.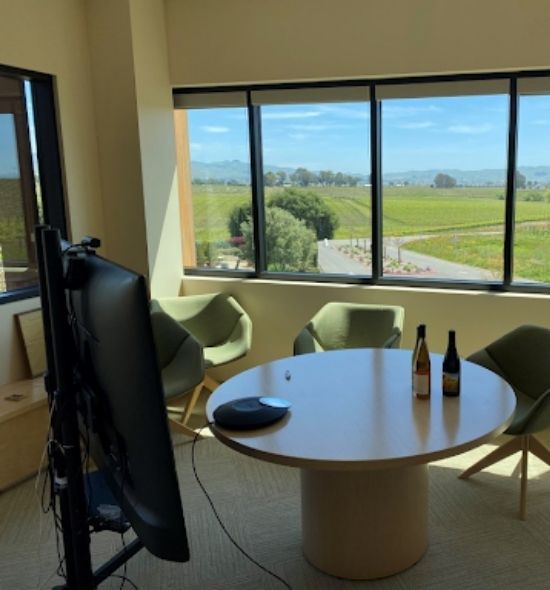 What metrics / KPIs do you have to meet in your DTC and wine club role.
Before covid (and I can't overstate this enough), every winery seemed to overlook the digital world. I operated with a dashboard programmed in Excel, based upon anecdotal daily stats from my tasting room reports. Here at Bouchaine, I would report the most important to our GM/winemaker and our owners.
My most essential tasting room KPIs looked like this: (Tasting room guest count) x (ave bottle sold) x (number of bottles per person).
For wine club development, they would be: (tasting room guests) x (conversion rate to the club) x (ave club shipment).
We would be aware that club members tend to drop out 2.6 years after they join on the backside. That's where my virtual wine tasting idea seemed so dynamic, giving members a reason to stay with us for an ever-engaging winery experience. Post-covid, everything has changed. Now I am interested in how much engagement our website is getting, which landing pages are most dramatic, what Google search words might bring customers to our website. There's a greater emphasis on cross-pollination suddenly too. It's not just how many calls our Outbound telemarketing team might make each day or their average daily sales, but how many new customers versus established customers are flowing through our website. Honestly, before covid, I didn't care about long-tail keywords or web site page analysis or even abandoned shopping carts. It's not where the action was, at least in my mind. Largely the wine industry is 25 years behind the retail world in this way. All of it changed dramatically with a virus.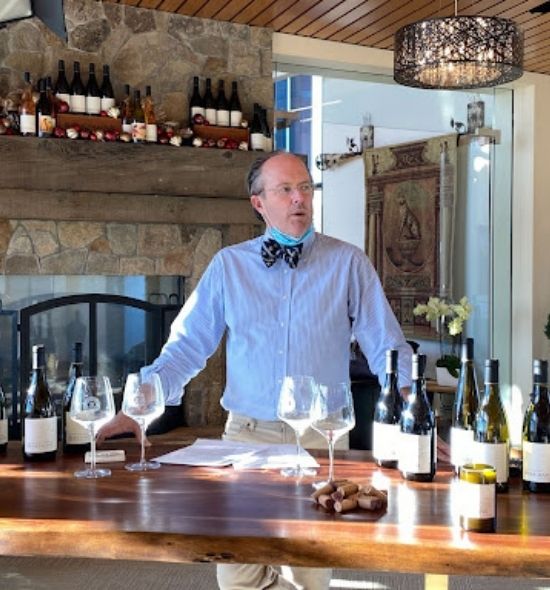 What all planning should go in your eCommerce and DTC strategy. What's the difference between e-comm work and DTC work.
Let me answer the last question first because it's singularly essential. Ecom is the promise of wholesale volume with the hope of DTC margins. It's national, and to some degree, global audience. The horizon is bigger. It's 24/7. It's not tourist-based requires less labor. It's larger-scale DTC distribution. Ecomm allows businesses to discover their customers through search words and hits, essentially allowing business strategy to build from customer insights rather than marketing and branding. DTC, or direct to consumer, is old-fashioned, personalized, corner store retail. The sales are one-off and related to store hours if it's done poorly. If, however, it's handled like the private client business in the art world, real estate, investment sector, or luxury fashion, then it's a rich series of hand-sells erupting from relationship-building. For the wine biz, e-comm promises better labor to sales ratio. It's also, counterintuitively, the promise of a longer, more seamless customer journey attached to the patterns of a customer's life.
Let's go back to when Covid started, what immediate meetings your team did, how did you plan what you had to do, and how did you implement the new initiatives.
In 2008-2009, I lost my former business because of the financial crisis. When Covid hit, I panicked. I turn off the tasting room's heat. I began plotting how to save my team members' jobs. The first meeting was with our GM, Chris Kajani. I began to pitch her on how the virtual wine tasting idea might have more traction suddenly under the covid crisis because our customers were locked inside their homes suddenly. Then she and I met with the winery owners. Here's where I got lucky. I evoked 2008/2009 and told them I would help any way they needed to keep us afloat. I told them I wanted our sales team to be safe at home, call their best customers for orders, and eventually, help with the virtual tasting program while we were closed, i.e., I didn't want to fire the team we had successfully built in the four years prior. Their response: "that's not who we are." They had no intention of forcing me to fire the team. I knew then that I was the luckiest person in the industry. The staff kept their jobs. I stayed in the tasting room alone for a month, answering phones. Our Office Manager worked from a different building, also answering phones. Suddenly, so many virtual tastings were requested that we couldn't keep up with the orders. One virtual system led to two. Then we needed a more sophisticated approach to broadcast cooking classes. A James-Beard Award-Winning chef, known for his San Francisco Bay Area cooking show, hooked us up with his former Emmy-award-winning Producer.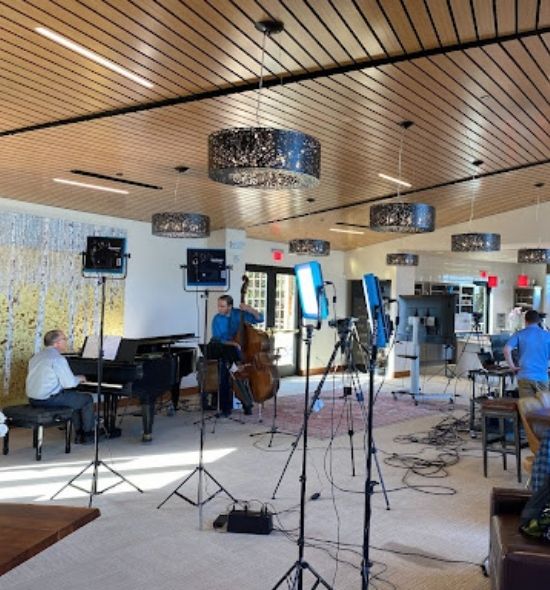 A month later, we had a custom system of 4K cameras that could interact with any digital format. Everyone knew how to use the production lights, lavaliers, camera switchers, and soundboards three months later. We recorded introductory sizzle reels and welcome messages for our website. Meanwhile, we approached three of our former customers whose digital marketing conference we had helped host a year before. They set us up with a critical online piece: automated Calendly appointments suddenly filled my Zoom calendar every day between 7 am-1 pm. with corporate clients looking for virtual wine tastings. The year transformed our business model; and, arguably, the entire wine industry's business model forever. Suddenly, international corporations were calling wineries directly. 90-year-olds celebrated their birthdays online with their distant family members via Zoom and WebEx. Bouchaine was talking about wine nearly 24/7 in multiple time zones.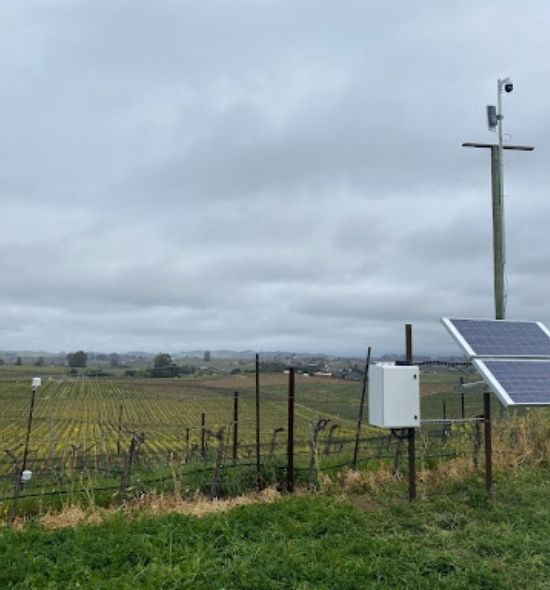 To the left are some of the Cisco vineyard sensors. To the right is the solar unit powering Cisco's wireless signals from our visitor center 500 yards away. At the top is a camera that will project Napa Valley shots to our website.
Explaining the dynamics of your virtual tasting, the production, the marketing, the conversion, how are you managing that activity.
2020 regarded as offering a new sales channel to a desperate world; 2021 involved staying relevant. In both cases, of course, the principal question is whether you can sell as well through a conversation on TV as in person at the winery. Fortunately, the virtual program relies upon selling wine before the virtual tasting itself. In 2020, I had a seizure from the stress of keeping a 7 a.m.-1 a.m. work schedule. The volume of opportunity was that demanding. The morning involved meetings, the virtual afternoon tastings, the evenings, all the email order fulfillment I never got to during the day. My great fear in 2021 was that it would all go away with Covid. We diversified from wine tasting to offering virtual partnership experiences: wine & cheese with Rogue Creamery in Oregon, wine & bourbon with Wilderness Trail Distillery in Kentucky, wine & music pairings with the Philadelphia Orchestra, cooking classes with star chefs. Our production involved 4K cameras, 50' HDMI cords, lights, camera switchers, and soundboards. Each tasting still involves 30 minutes of set-up. Sizzle reels are still goosing to Calendly appointments. Two weeks before every virtual tasting, we ask for the guest lists so that we can process and expedite the wine kits. Our new shipping manager prepares boxes in advance for our repeat customers, an enormous addition now that we have an established repeat customer base. Over the last year, we've been trying to expand our horizons to meet more of the enormous scale of our corporate customers. We've been slowly developing a "Sister Winery" program comprised of other wineries like ours that are female-led or owned so that we can offer conversations in multiple languages in multiple time zones about diversity and differences in perspective. With Cisco's help, thanks to their wireless technology, we've developed the first virtual wine tasting in the middle of a vineyard, a differentiating setting. We'll offer vineyard tours with live video selfies for our customers to share their wine country experience live. And even more importantly, thanks to Cisco, we are developing a digital sensor program for our vineyard that will offer Bouchaine new horizons for nearly every part of its P&L. For our virtual programming, all of these new dimensions allow us to address different aspects of the wine business for other customers, balance sheets for accountants, digital disruption for our friends in Silicon Valley, and weather patterns in Napa for our important tourist visitors, etc. As importantly, the Sister Winery program allows us to celebrate women in wine, an authentic topic for us and frequently for our corporate customers. All appointments are scheduled automatically via our website or manually through phone calls and key client managers.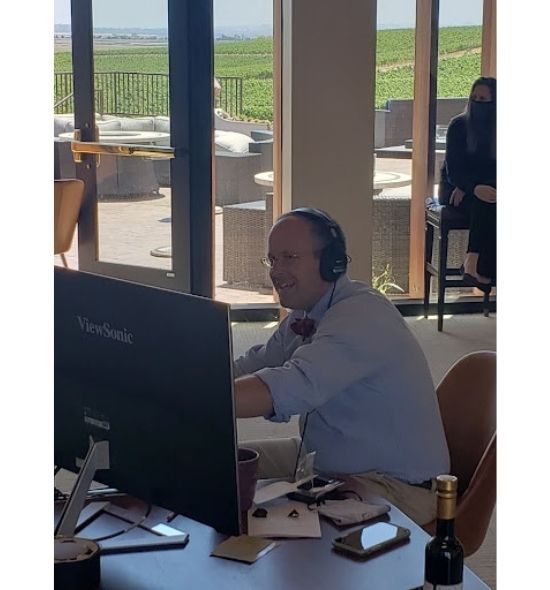 During a cooking broadcast.
5 tips you can give other wineries on how to scale DTC sales.
Particularly for the Napa Valley, DTC is reliant upon permits. Newer wineries can often host less than 50 guests a day, while older ones with permits from the 60s-80s might be able to see 2000. Therefore, goosing guest counts and conversion rates might not be as viable for everyone. If your winery has a robust permit:
1. Reach out to every tour company within 50 miles.
2. Reach out to DMCs, since they can be vibrant conduits to corporate groups.
3. Focus on conversion rates for bottles sold per person and wine clubs too by training your staff to sell rather than host guests with a smile.
4. Find a niche against your geographic competition—Napa Valley, for example, has 500 wineries, but the customers choose them by travel times, not always reputation.
5. Lastly, synthesize and cross-pollinate every sales channel, making the customer journey more fun and vibrant.
If your winery has limited capacity or perhaps prefers more rarified air, then be sure to offer comprehensive guest services that imitate a country club or luxury salon: private dinners around the country, coordinated, personalized outreach in telemarketing, exceptional response rates via phone and email; digital solid added value in the form of blogs/vlogs and an easily navigable web site.
[[relatedPurchasesItems-35]]
Please provide an example of your most successful digital initiative that you have led.
My answer needs to be two-tiered. Virtual tasting now represents the best chance for small wineries to have a national voice for the first time in 15 years. Suddenly, 300 million Americans are trained on WebEx and Zoom, representing an enormous audience. Virtual tastings represent more than a covid solution. It's a branding, language, and cultural solution too. The elements of wine that make it unique also make it impenetrable to the average consumer. No regular consumer has a chateau with a wine cave filled with old bottles. Descriptors like "hints of tobacco and slate" are off-putting. They repel new customers rather than attract them. Then think of the cork. It's the very barrier between the wine and a customer-- and it's also a mystery to most consumers, half barely keeping a corkscrew around the house or office to pull it from the bottle. The wine industry is 5000 years old, and yet hardly anyone in its largest market, the United States, knows anything about wine. The nomenclature is bad, the very opening to the bottle isolating for the customer. Thanks to digital innovation, all of these things can be easily surmounted in the comfort of the customer's home, with wineries broadcasting from their production rooms and vineyards. That's important and foundationally transformative. Combining that with social media and QR codes on the bottle and the wine industry can add value to its customer relationships. However, another tier is developing right now, the most significant extension regarding Cisco Systems. We met them through covid when they became virtual customers. Now, because of an evolving and very fortuitous friendship, the scope of digital suddenly extends to wireless sensors in the vineyard that can help us understand and improve our water use, alter our planting techniques and maximize photosynthesis, save on operational efficiency in labor and gas for tractors.
We'll have QR codes on every bottle that will link to our website and social media—and live dashboards relaying sensor data. In other words, our genuine efforts to improve our wines will be related to our efforts to become better and better stewards of the land. The wine industry can change its language from food metaphors to sensor readings that our customers can experience even more readily than a video game. The winery and customer journeys will intersect in more affluent, more authentic ways. Frankly, it's chicer too. One of the oldest industries in the world is getting a refresh from the industry that is driving the most new-found solutions for our time—and the digital horizon is moving from sales and marketing to an intersection with resource management. The nexus is fascinating.
What's your take on blockchain, nft, and other tech.
The wine industry is just now learning how to sell online, and I just learned how to connect my computer to my TV; let me relish in the vision of Cisco linking temperature and moisture sensors to video links on our bottles.